I'll confess that I am a big fan of Kathleen Krull. She is the master of biography, both because she knows how to find interesting people to write about, particularly women, and because she encapsulates their lives perfectly. That's why I was looking forward to reading her newest (a nominee in the  2015 Cybils award in the Elementary/Middle Grade Nonfiction category), Women Who Broke the Rules: Sonia Sotomayor
illustrated by Angela Dominguez.
Boy, Krull did not disappoint. I admit being a bit put off by the cartoon illustrations when I first paged through it because I felt they were perhaps a bit disrespectful of such a prominent person. Once I started reading, however, I completely forgot about my initial reaction. Krull's narrative pulled me in and I couldn't put the book down until I finished the last sentence.
Sonia Sotomayor's story is a compelling one. She overcame a childhood of poverty and illness to attend an Ivy League university. Working both hard and smart, she rose through the legal system to becomes the first Latina to serve on the U.S. Supreme Court. Not finding role models in her neighborhood, Sotomayor admits that she wanted to be like Perry Mason on TV something children will probably be able to relate to.
As for the illustrations, I realized they fit in with the other books in the Women Who Broke the Rules series. They are likely to pull in reluctant readers who might find more scholarly illustrations intimidating.
Sonia Sotomayor:  I'll Be the Judge of That! is an inspiring story that is told well, one that every child deserves to know. Share it today!
Age Range: 6 – 9 years
Publisher: Bloomsbury USA Childrens (June 9, 2015)
Language: English
ISBN-10: 0802737986
ISBN-13: 978-0802737984
Disclosure: This book was supplied by the publisher for review purposes. Also, I am an affiliate with Amazon so I can provide you with cover images and links to more information about books and products. As you probably are aware, if you click through the highlighted title link and purchase a product, I will receive a very small commission, at no extra cost to you. Any proceeds help defray the costs of hosting and maintaining this website.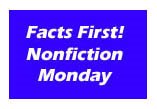 Looking for more children's nonfiction books? Try the Nonfiction Monday blog.