When a child sees the ocean for the first time, he or she is likely to be very curious about it. One way to satisfy that curiosity is to pull out some great informational books and read.
Beginning readers might be ready to explore Oceans and Seas
(Acorn: Water, Water Everywhere!) by Diyan Leake, available soon.
In Oceans and Seas, the reader will find out what an ocean is, what lives in the ocean, and how waves form, all of which are introduced with short sentences and carefully controlled vocabulary. Needless to say, it is illustrated with beautiful color photographs and includes a map with the five oceans labelled. The best part is on the last page, where parents and teachers can find suggestions for appropriate hands-on activities to do before and after reading the book. You definitely want to read that page first.
Reading Level: Grades PreK-1
Publisher: Raintree (October 9, 2014)
ISBN-10: 140628386X
ISBN-13: 978-1406283860
Slightly older children might enjoy Oceans (Habitat Survival)
by Claire Llewellyn.
After identifying the world's oceans as habitats, the text explains the kinds of animals and plants (really algae, which are protists) found there and how the various types of organisms are interrelated in a food web. The book is illustrated with color photographs, with explanations that are set off and highlighted nicely.  The dangers to sea life and how we might protect it are also included.
Oceans would be appropriate for a unit or report on oceans, habitats or marine ecology.
Grade Level: 2 – 4
Publisher: Raintree Perspectives (August 1, 2012)
ISBN-10: 141094607X
ISBN-13: 978-1410946072
This week we are highlighting more ocean science books and activities for kids at Growing with Science blog (posts to be added throughout the week).
Do you have any ocean science books or activities to share? Let us know in the comments and we'll pin them to our Ocean Science Pinterest board.
We also have a growing list of ocean and beach science-themed children's books at our sister blog, Science Books for Kids.
Disclosure: These books were provided by the publisher for review purposes. I am an affiliate with Amazon so I can provide you with cover images and links to more information about books and products. As you probably are aware, if you click through the highlighted title link and purchase a product, I will receive a very small commission, at not extra cost to you. Any proceeds help defray the costs of hosting and maintaining this website.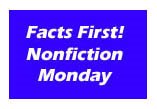 Looking for more children's nonfiction books? Try the Nonfiction Monday blog.