Have you ever had a pet guinea pig?
Guinea pigs really do make great first pets for children. My sister and I enjoyed ours so much we made sure our own children got to keep guinea pigs as pets as well.
Those enjoyable experiences keeping guinea pigs as pets is why I am thrilled to recommend Gordon's Guide to Caring for Your Guinea Pigs (Pets' Guides)
by Isabel Thomas.
Who is "Gordon" from the title? Gordon is a cartoon guinea pig who serves as a first-person guide throughout the book. There he is in the lower left corner of the cover above.
Gordon shows readers how to choose their pet guinea pigs (he recommends keeping more than one because they are social), what supplies they will need, as well as how to properly feed (special pellets with vitamin C) and exercise the new member of the family. He suggests ways to keep a guinea pig cage clean and what symptoms to look for if your guinea pig seems sick.
The book is illustrated both with color photographs and with humorous illustrations of Gordon. It covers the basics clearly and concisely, and everyone who is thinking of adopting a guinea pig would do well to read this book first.
I do have one other "cavieat" (guinea pigs are also called cavies.) I recommend that all members of your family spend time with guinea pigs before you commit to bringing them home, not just the potential owner. It turned out that one member of our family was uncomfortably allergic to our guinea pigs, which we didn't realize until afterwards.
Otherwise, who could resist these adorable faces? Read Gordon's Guide to Caring for Your Guinea Pigs and you just might be hooked, too.
Age Range: 6 – 8 years
Publisher: Heinemann (September 1, 2014)
ISBN-10: 1484602684
ISBN-13: 978-1484602683
Edit:  Bedtime Math blog has a great story and math activities that would go well with this book.
Disclosure: The book was provided by the publisher for review purposes. I am an affiliate with Amazon so I can provide you with cover images and links to more information about books and products. As you probably are aware, if you click through the highlighted title link and purchase a product, I will receive a very small commission, at no extra cost to you. Any proceeds help defray the costs of hosting and maintaining this website.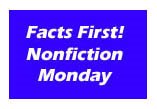 Looking for more children's nonfiction books? Try the Nonfiction Monday blog.