Happy Groundhog Day!
Talking about Groundhog Day can evolve into a discussion of hibernation and overwintering. Where do other animals go in the winter? Today we have two books about butterflies and their life cycle that discuss how monarchs migrate south to avoid freezing temperatures.
The first, When Butterflies Cross the Sky: The Monarch Butterfly Migration (Extraordinary Migrations)
by Sharon Katz Cooper and illustrated by Joshua S Brunet, uses a narrative style to follow a female "fourth-generation" monarch butterfly through her migration cycle.
Illustrated lushly with oil, acrylic and colored pencil, this title has the look and the feel of a fiction picture book. The text is bursting with verbs like "Flutter, flutter! Flutter, flutter!" It is also subtly filled with science concepts, like the butterfly gliding rather than flapping, in order to save energy.
You will want a copy of this book on hand for units on insects, life cycles (there is a two-page spread of the butterfly life cycle at the end), and also units on animal migrations (part to the Extraordinary Migrations series). Highly recommended for readers who say they don't like nonfiction. This lovely picture book will undoubtedly win them over.
Age Range: 5 – 9 years
Grade Level: 2 – 3
Publisher: Picture Window Books (February 1, 2015)
ISBN-10: 1479561045
ISBN-13: 978-1479561049
In contrast, Life Story of a Butterfly (Animal Life Stories)
by Charlotte Guillain is a straightforward informational text, perfect for young readers who gobble up nonfiction.
Although it says life story of a butterfly in the generic sense, for the most part it focuses specifically on the life of the monarch butterfly. The reader will learn what the parts of a butterfly are called, how the young are different from the adults, how long they live, and where they go in the winter. Life Story of a Butterfly is filled with bright, colorful photographs, each carefully chosen to correspond to the text.
Life Story of a Butterfly particularly focuses on the life cycle of the monarch butterfly, and shows each stage of the insect's metamorphosis in detail. It would fit in well in a unit on life cycles, or could be very useful for a report on monarch butterflies. Budding entomologists will particularly enjoy it.
What perfect titles to get us in the mood for spring!
Did the Groundhog see his shadow where you live?
Age Range: 6 – 8 years
Publisher: Heinemann (July 1, 2014)
ISBN-10: 1484604873
ISBN-13: 978-1484604878
Looking for more books about butterflies?  Try our list of books about moths and butterflies at Science Books for Kids.
And, here is a video I just found of a Eacles imperialis caterpillar hatching from an egg:
Disclosure: The books were provided for review purposes. I am an affiliate with Amazon so I can provide you with cover images and links to more information about books and products. As you probably are aware, if you click through the highlighted title link and purchase a product, I will receive a very small commission, at no extra cost to you. Any proceeds help defray the costs of hosting and maintaining this website.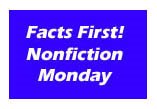 Looking for more children's nonfiction books? Try the Nonfiction Monday blog.