Today, March 2, 2015, is what would have been Theodore Seuss Geisel's 111st birthday. It is also National Education Association's Read Across America celebration to promote literacy. To participate, in addition to pulling out Green Eggs and Ham, why not share some fantastic nonfiction with titles from the Cat in the Hat's Learning Library?
The Cat in the Hat might not be the first book/character that comes into mind when you think of nonfiction, but it should be.  The Cat in the Hat's Learning Library blends the fun cartoon characters and rhyming text of classic Seuss with well-researched, high quality nonfiction. It is a winning combination!
Although the series has been out for some time, try these new titles:
Out of Sight Till Tonight!: All About Nocturnal Animals (Cat in the Hat's Learning Library)
by Tish Rabe
The Cat in the Hat character takes Sally and Nick (with Thing 1 and Thing 2) on a learning adventure visit with nocturnal animals, such as bats, owls, raccoons, and kiwi birds. Explore why some animals' eyes shine at night or how bats find their food in the dark.
Age Range: 5 – 8 years
Grade Level: Kindergarten – 3
Series: Cat in the Hat's Learning Library
Hardcover: 48 pages
Publisher: Random House Books for Young Readers (March 24, 2015)
ISBN-10: 0375870768
ISBN-13: 978-0375870767
Once upon a Mastodon: All About Prehistoric Mammals (Cat in the Hat's Learning Library) [Hardcover]
by Bonnie Worth
Did you know that sloths have ancient relatives that were giants, as big as elephants? Learn all about the Ice Age mammals and early humans, too.
Can You See a Chimpanzee?: All About Primates (Cat in the Hat's Learning Library)
by Tish Rabe, illustrated by Aristides Ruiz and Joe Mathieu
In this title, the Cat in the Hat takes Sally and Nick to Africa and Asia where they discover all sorts of primates, from tiny tarsiers and tamarins to giant gorillas. Learn the difference between an ape and a monkey along the way.
The Cat in the Hat's Learning Library has a nonfiction title on virtually any topic you can imagine. Pick out one to share with young readers today!
Disclosure: I am an affiliate with Amazon so I can provide you with cover images and links to more information about books and products. As you probably are aware, if you click through the highlighted title link and purchase a product, I will receive a very small commission, at no extra cost to you. Any proceeds help defray the costs of hosting and maintaining this website.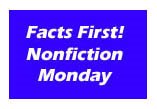 Looking for more children's nonfiction books? Try the Nonfiction Monday blog.