Let's explore some of the fantastic nonfiction children's books that have been nominated for 2018 Cybils awards.
Today we have the inspiring new picture book What Do You Do with a Voice Like That?: The Story of Extraordinary Congresswoman Barbara Jordan by Chris Barton and illustrated by Ekua Holmes.
Barbara Charline Jordan was born in Houston, Texas in 1936. Before long, she was known for her oratory skills. She recited poetry and gave speeches in school. After she graduated from law school, her speaking skills led her into politics. Eventually, she was elected to the U. S. Congress where she fought against discrimination.
You can hear Barbara Jordan's voice in the rhythm of Chris Barton's brilliant text.
That voice
That big, bold, booming, crisp, clear, confident voice.
It caused folks to sit right up, stand up straight, and take notice.
The alliteration of the adjectives adds to the effect.
He also repeats the title throughout for emphasis:
"What do you do with a voice like that?
Ekua Holmes's mixed media illustrations capture the time, which was the late 1960s and early 1970s. They are as bright and bold as Barton's text.
The back matter consists of an author's note and a two-page spread time line. In it readers discover that Barbara Jordan, who retired early from public service because she had multiple sclerosis, died too young at 59.
What Do You Do with a Voice Like That? begs to be read aloud. Pull it out for Black History Month, for Women's History Month, and for all the months of the year. Barbara Jordan's voice should be remembered.
Activity Suggestion:
Check YouTube for some of Barbara Jordan's speeches.
Sidebar:  How long does it take for a book to be published?
In the back matter, Chris Barton says he started writing the book in 2013. On his blog, he announced he had sold the text to Beach Lane Book in September of 2015. The book was published last month on September 25, 2018, the final step in a five year process!
Age Range: 4 – 8 years
Publisher: Beach Lane Books (September 25, 2018)
ISBN-10: 9781481465618
ISBN-13: 978-1481465618
Disclosure: The book was provided by my local library. Also, I am an affiliate with Amazon so I can provide you with cover images and links to more information about books and products. As you probably are aware, if you click through the highlighted title link and purchase a product, I will receive a very small commission, at no extra cost to you. Any proceeds help defray the costs of hosting and maintaining this website.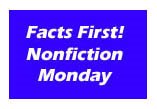 Looking for more children's nonfiction books? Try the Nonfiction Monday blog. (Note:  this is a new URL for October 2018).