Let's explore some of the fantastic nonfiction children's books that have been nominated for 2018 Cybils awards.
For Nonfiction Monday we have the picture book biography Joan Procter, Dragon Doctor: The Woman Who Loved Reptiles by Patricia Valdez and illustrated by Felicita Sala.
Fascinated by reptiles from an early age, Joan Procter found a mentor in Dr. George Boulenger who was the curator of reptiles and fish at the Natural History Museum. She became his assistant at a young age and took over his position when he retired. She mixed art and science, doing scientific research and creating exhibits at the Museum at the same time. Later, after designing a reptile house at the London Zoo, she formed a special bond with the most unlikely animal, a huge Komodo dragon.
Joan Procter was a person ahead of her time and she probably don't get the recognition she deserved because of it. From the catchy title on in, Patricia Valdez has done her part to shine the light on this amazing woman whose passion for reptiles helped her forge new paths for women as scientists. Valdez has chosen anecdotes from Procter's life, like taking a small crocodile to math class, that are sure to engage and thrill young readers.
Like a chameleon, Joan Procter, Dragon Doctor will fit many lessons. Pull out a copy not only for Women's History Month, but also for a STEM lesson on reptiles or the lives of scientists. It is perfect for history buffs and budding scientists alike.
Activity Suggestions:
Age Range: 4 – 8 years
Publisher: Knopf Books for Young Readers (March 13, 2018)
ISBN-10: 0399557253
ISBN-13: 978-0399557255
Check out our growing list of biographies of women scientists at Science Books for Kids.
Disclosure: The book was provided by the publisher for Cybils review purposes. Also, I am an affiliate with Amazon so I can provide you with cover images and links to more information about books and products. As you probably are aware, if you click through the highlighted title link and purchase a product, I will receive a very small commission, at no extra cost to you. Any proceeds help defray the costs of hosting and maintaining this website.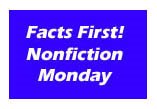 Looking for more children's nonfiction books? Try the Nonfiction Monday blog.