Exploring their ancestry and relatives is a great way for kids to learn more about themselves and also about history, but how to go about it isn't always clear and most resources are geared for adults.  National Geographic Kids Guide to Genealogy: Tips and Tricks on How to Uncover Your Roots and Build Your Family Tree! by T.J. Resler gives middle grade students the tools they need to become successful genealogists.
The main section in each chapter explains how to do a particular aspects of the search, from getting started, to places to find clues, to how DNA has changed genealogy. In addition each chapter also includes expert tips, suggestions for hands-on activities (like putting together a time capsule or a family cookbook!), case files, and best of all, how to solve problems. Researching genealogy can be difficult at times and the book gives kids a realistic view of what the stumbling blocks might be and how to avoid getting discouraged.
The book is illustrated both with stock photographs and archival images from the Library of Congress. The information is organized in attractive chunks, with plenty of sidebars to make the pages visually interesting.
Although this book is geared for kids, adults who are interested in exploring their roots might also find it to be a useful place to start. I took notes when I read it and found myself saying, "That's a really good idea" on almost every page. I also liked that the author emphasized how to preserve and organize information, and also how to keep accurate citations so others can follow their trail.
National Geographic Kids Guide to Genealogy is a wonderful choice for young history buffs and budding genealogists, or anyone embarking on an investigation into their ancestry. It is the kind of resource that readers will want to return to again and again. Dig up a copy today!
Suggested Activity:
Consider touring a cemetery, preferably an older one or one where some of your ancestors are buried. Visit Find A Grave and/or BillionGraves websites to locate one.
If you haven't visited a particular cemetery, check in advance that it is a safe place to visit. Carry along supplies to take photographs, do rubbings, and/or take notes about significant or interesting tombstones. Also, talk to little ones about cemetery etiquette so they don't climb tombstones or disturb others.
If you or a family member develops an interest, consider becoming a volunteer for one of the cemetery websites and upload information for others to use to locate their own relatives.
Disclosure: The book was provided by our local library. Also, I am an affiliate with Amazon so I can provide you with cover images and links to more information about books and products. As you probably are aware, if you click through the highlighted title link and purchase a product, I will receive a very small commission, at no extra cost to you. Any proceeds help defray the costs of hosting and maintaining this website.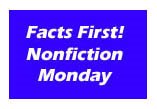 Looking for more children's nonfiction books? Try the Nonfiction Monday blog.