Have you considered doing a lesson on picture book illustrators, which would combine aspects of art, literature, and history?  A Celebration of Beatrix Potter: Art and letters by more than 30 of today's favorite children's book illustrators by Beatrix Potter (and many others) is a perfect resource to get you started.
Last year, 2016, was the 150th anniversary of Beatrix Potter's birth. To honor her, thirty-two famous children's book illustrators produced artwork and stories inspired by Potter's picture books. The featured illustrators range from Lauren Castillo and Tomie dePaola to Rosemary Wells and Pamela Zagarenski. See Kelly Murphy's website for one example.
The official word is this book is for readers grades three up. You might be skeptical, but it does have the potential to appeal to a range of ages.  Younger children will be probably be captivated by the assortment of illustrations and the excerpts from Potter's children's books. Adults will be interested in the accompanying essays by the illustrators, as well as the historical tidbits provided as background for Potter's books. For example, we learn The Tailor of Gloucester was Beatrix Potter's favorite and that it was based on a true story. How fun!
A Celebration of Beatrix Potter is a treasure trove to explore, especially for readers interested in art and books. It is valuable as a resource for art and history lessons, and as a reference. But best of all it is a fitting tribute to Beatrix Potter's genius. Check out a copy today.
Examples of ways to use the book for art lessons:
Activity 1. Exploring Illustrations
Gather:
A Celebration of Beatrix Potter
Books by the featured illustrators
Free exploration:   Encourage children to examine the illustrations in A Celebration of Beatrix Potter closely. They may be surprised by what they discover. For instance, David Wiesner points out Jeremy Fisher (a frog) has tiny non-frog feet with shoes on when he's out of the water. Look at the thickness of the lines, the colors, textures, etc.
Challenge:  Show an illustration from another book by one of the featured illustrators (without identifying the illustrator). See if the children can figure out who the illustrator is by matching similarities to illustrations in A Celebration of Beatrix Potter. Hint:  Rosemary Wells and Tomie dePaola might be good illustrators to start with.
Activity 2:  Warm and Cool Colors
Gather:
Paper
Crayons
Colored pencils
Markers
Optional:  Paints and paintbrushes
Explain that colors on a color wheel are divided into warm and cool colors based on how they relate to our experiences and how they make us feel. Warm colors are red, orange, and yellow. Cool colors are green, blue, and purple.
Show the children an illustration filled with cool colors, like Jon Agee's illustration on page 33. Contrast it with an illustration with warm colors like Rosemary Well's illustration on page 51. You can also compare the winter scenes on page 46 with the warm interior scenes on page 47. Ask the children to point out the warm and cool colors in each. Encourage them to describe how they feel about each illustration. Why do they think the artist chose those colors?
Have the children create their own illustrations using mostly cool or mostly warm colors. If they have the time and interest, have them create an illustration with the opposite colors and compare them.
Take a peek inside from Google Books:
Age: Grade 3+
Hardcover: 112 pages
Publisher: Warne (November 1, 2016)
ISBN-10: 0241249430
ISBN-13: 978-0241249437
Beatrix Potter had pet rabbits as a child.
Disclosure: This book was supplied by our local library. Also, I am an affiliate with Amazon so I can provide you with cover images and links to more information about books and products. As you probably are aware, if you click through the highlighted title link and purchase a product, I will receive a very small commission, at no extra cost to you. Any proceeds help defray the costs of hosting and maintaining this website.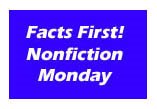 Looking for more children's nonfiction books? Try the Nonfiction Monday blog.