Today we have another fantastic nonfiction children's book that has been nominated for 2018 Cybils awards.
Aim for the Skies: Jerrie Mock and Joan Merriam Smith's Race to Complete Amelia Earhart's Quest by Aimee Bissonette and illustrated by Doris Ettlinger takes us beyond a famous person who has been the subject of dozens of biographies (Amelia Earhart) and introduces us to two equally fascinating women who aren't household names.
Separately, female pilots Jerrie Mock and Joan Merriam Smith both dreamed of flying around the world all by themselves. By sheer coincidence, they both decided to take off within a few days of each other. Soon people turned their journeys into a competition, which is something neither of the women had intended.
Given what happened to Amelia Earhart, there is plenty of tension in this book as the women encounter problem after problem. Will they survive to finish their flights? Which one will "win"? Readers will hold their breath until they find out for sure.
Doris Ettlinger's watercolor illustrations capture both the time in history and the feeling of soaring. They are gorgeous.
Aim for the Skies is a must have for aspiring pilots and general readers alike. Be prepared to take off on your own journey of discovery.
Activity Suggestion:
Accompany the book with a visit to an aerospace or aviation museum (See a worldwide list of museums on Wikimedia).
Age Range: 6 – 9 years
Publisher: Sleeping Bear Press (September 15, 2018)
ISBN-10: 1585363812
ISBN-13: 978-1585363810
Disclosure: The book was provided by our local library. Also, I am an affiliate with Amazon so I can provide you with cover images and links to more information about books and products. As you probably are aware, if you click through the highlighted title link and purchase a product, I will receive a very small commission, at no extra cost to you. Any proceeds help defray the costs of hosting and maintaining this website.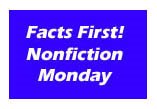 Looking for more children's nonfiction books? Try the Nonfiction Monday blog.