Books can inspire kids in unexpected ways. One summer during our elementary school years my sister and I challenged each other to memorize all the U.S. presidents, simply because we had a book that listed them in order. When we could recite the presidents backwards and forwards we went on to memorize all the state capitals. It was our idea of fun in an era before computer games.
Today we are featuring Awesome America: Everything You Ever Wanted to Know About the History, People, and Culture (Time for Kids) by Katy Steinmetz, a "timely" book that would be perfect for kids who like to memorize facts.

Could my sister and I have used this book for our challenges? Yes! There's a list of all the presidents on pp. 38-39, complete with illustrations and years in office. There's also a tour all 50 states with maps and information, like the state capitals, state nicknames, and types of wild animals found in each state. We could have had hours of fun quizzing each other with questions like, "Who's shown on the $100,000 bill?" (See page 187 for the answer.)
Although at 208 pages it is a hefty tome, Awesome America is not a dry or like a textbook. Instead it is a colorful overview highlighting important events and people that have shaped the United States. In addition to presidents and states, it is organized into chapters that cover topics such as "Our Government," "Civil Rights," "Great Americans," and "America's Role in the World." The final chapter contains a timeline revealing the main events of 400 years of history.
Awesome America is a veritable treasure trove of information. It would be a useful addition to any reference library, especially as a resource for school reports. Pick up a copy and see what it inspires today!
Related activity:
Planning a trip across the United States or studying your home state? Want to read some children's books to reinforce learning? Check out our Wrapped in Foil website of children's books listed by state.
Age Range: 8 – 12 years
Publisher: Time For Kids (May 31, 2016)
ISBN-10: 1618931490
ISBN-13: 978-1618931498
Disclosure: This book was supplied by the publisher for review purposes. Also, I am an affiliate with Amazon so I can provide you with cover images and links to more information about books and products. As you probably are aware, if you click through the highlighted title link and purchase a product, I will receive a very small commission, at no extra cost to you. Any proceeds help defray the costs of hosting and maintaining this website.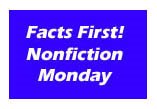 Looking for more children's nonfiction books? Try the Nonfiction Monday blog.