For Nonfiction Monday we have a scorching new release from Chicago Review Press, Big Top Burning: The True Story of an Arsonist, a Missing Girl, and The Greatest Show On Earth
by Laura A. Woollett, just in time for summer reading.
Big Top Burning chronicles the 1944 Hartford Circus Fire, which occurred during a performance of the Ringling Brothers and Barney & Bailey Circus. While the spectators were watching the Flying Wallendas high wire act, the big top tent caught fire. In only 10 minutes the whole thing had burned down, killing 167 people and injuring many more. It is one of the worst fire disasters in U.S. history.
Illustrated with black and white photographs from before, during and after the fire, and sprinkled with numerous quotes from spectators and victims, the readers feel like they've gone back in time to witness events firsthand. Although told in chronological order (with the disaster described at the first part of the book), the story does not lose impact because of the lingering questions that remain even to this day. How did it happen? Was it an accident or was it arson? Why were so many people trapped and killed? The event is not only a tragedy, but also a lasting mystery.
Woollett has done a wonderful job of keeping the story interesting, without slipping either into sensationalism or being pedantic. Her background in writing for reluctant readers is evident, and this title would be a good choice for older reluctant readers. She also deserves credit for the impressive amount of research she must have undertaken, as evidenced by the copious notes section in the back matter.
Big Top Burning is nonfiction at its finest. Readers, from middle grade and up, will not be able to put the book down.
Age Range: 10 and up
Publisher: Chicago Review Press (June 1, 2015)
ISBN-10: 1613731140
ISBN-13: 978-1613731147
Disclosure: The book was provided by the publisher for review purposes. Also, I am an affiliate with Amazon so I can provide you with cover images and links to more information about books and products. As you probably are aware, if you click through the highlighted title link and purchase a product, I will receive a very small commission, at no extra cost to you. Any proceeds help defray the costs of hosting and maintaining this website.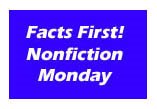 Looking for more children's nonfiction books? Try the Nonfiction Monday blog.