This month we are exploring some of the fantastic nonfiction children's books that have been nominated for 2018 Cybils awards.
For Nonfiction Monday, let's take a look at Bloom: A Story of Fashion Designer Elsa Schiaparelli by Kyo Maclear and illustrated by Julie Morstad. The best picture book biographies introduce readers to people, like Elsa Schiaparelli, who they might not learn about in textbooks.
Born in Rome, Italy, Elsa Schiaparelli felt her family preferred her older sister. In fact, she thought she was ugly and when she was seven she covered her face, ears, nose, and mouth with flower seeds in an effort to make herself more attractive. All the seeds did was make her sick, but it showed how she could think outside the box. After she grew up, Elsa used her creative spirit to design beautiful, innovative clothing that turned the fashion world of Paris on its ear.
For the most part, Kyo Maclear's first person text is enjoyable and informative. It is a bit awkward (a stretch), however, for Elsa to describe her own birth at the beginning. Maclear also discusses how Elsa's sister makes fun of the moles on Elsa's face in a middle of a paragraph about Elsa's Uncle Giovanni. The sentence is a non sequitur in that paragraph, although it does tie in later when he tells her the moles look like a constellation.
Julie Morstad's gouache, watercolor and pencil illustrations are a perfect reflection of Elsa Schiaparelli's artistic and creative talent. They aren't static, but zoom in and out in scale. The focus moves from close up of faces to a panorama of the night sky and back again.
Like a fresh flower, Bloom is a delight to behold. It is sure to inspire young readers to try their hands at clothing design.
Suggested Activities to Accompany Bloom:
1. Design a dress or other doll clothing
Gather:
dolls or action figures
scraps of cloth
ribbons, colorful yarn
lace
beads
chenille
age-appropriate scissors
glue
small safety pins (optional)
sewing supplies (optional)
Drape the scraps of cloth around the dolls to get ideas. Skirts can be simply tied about the waist like a sarong. Adding a belt of ribbon, yarn or lace can cinch on dresses or tops. Cut holes in cloth to create arm holes. Most children will need little guidance once they get the idea.
No sewing is needed, but patterns are available free online if you want to extend the activity further.
Even the leftover scraps from the dining room drapes look great on a doll.
 2. Plant flowers
Show children how to plant some flowers for real. Instructions to accompany video at PBS Parents.
Older artists looking for some serious inspiration should see our previous post about hi-tech clothes.
Age Range: 4 – 8 years
Publisher: HarperCollins (February 6, 2018)
ISBN-10: 9780062447616
ISBN-13: 978-0062447616
Disclosure: The book was provided by our local library. Also, I am an affiliate with Amazon so I can provide you with cover images and links to more information about books and products. As you probably are aware, if you click through the highlighted title link and purchase a product, I will receive a very small commission, at no extra cost to you. Any proceeds help defray the costs of hosting and maintaining this website.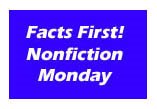 Looking for more children's nonfiction books? Try the Nonfiction Monday blog.
Note:  Nonfiction Monday blog moved over the weekend. Be sure to bookmark the new site.