It's time to plan for National Poetry Month. Let's start by pulling out two new children's picture books –written in rhyming verse by Sue Fliess — to share with young readers.
Sue Fliess is a master of the subtly humorous, fast-paced rhyming text that is so appealing to little ones. She also knows what interests children.
The Bug Book
features a delightful array of creepy, crawlies.
The book is illustrated with colorful stock photographs of insects and other bugs, which will help children learn more about them.
I really like the "go explore nature" message on the first page:
Grab a bucket. Check your guide.
Let's go find some bugs outside!
Related:
See suggestions for related insect and poetry activities at Growing with Science.
Age Range: 3 – 5 years
Publisher: Grosset & Dunlap (February 23, 2016)
ISBN-10: 044848935X
ISBN-13: 978-0448489353
Calling All Cars
by Sue Fliess and illustrated by Sarah Beise celebrates an age-appropriate interest in forms of transportation.
Follow all sorts of cars through a day long road trip, which ends with a gentle bedtime message:
Rest cars, Hush cars
No more rush, cars.
Cars pull in, turn off the light.
Sweet dreams, sleepy cars…goodnight!
The artist added interest by including clues to the events of the next page. Children will have great fun guessing what comes next.
You can get a feel for the book by watching the book trailer.
Although it has a fiction feel, this basic concept book will appeal to lovers of nonfiction, too.
Be sure to pick up The Bug Book and Calling All Cars for fun reading adventures in April!
Related Activities:
Visit Sue's website for a Calling All Cars Activity Guide to download.
Check the National Poetry Month Website for 30 Ways to Celebrate
Age Range: 3 – 7 years
Publisher: Sourcebooks Jabberwocky (March 1, 2016)
ISBN-10: 1492618810
ISBN-13: 978-1492618812
Disclosure:  Calling All Cars was retrieved from NetGalley. The Bug Book was supplied by the publisher for review purposes. Also, I am an affiliate with Amazon so I can provide you with cover images and links to more information about books and products. As you probably are aware, if you click through the highlighted title link and purchase a product, I will receive a very small commission, at no extra cost to you. Any proceeds help defray the costs of hosting and maintaining this website.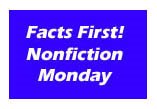 Looking for more children's nonfiction books? Try the Nonfiction Monday blog.