This weekend our family spotted a Harris's antelope squirrel while we were visiting our local botanical garden.
Where can children learn more about animals they might see in their yards or gardens? It turns out we have two new nonfiction titles that are perfect to guide them.
The first, What Can Live in the Garden? (What Can Live There?)
by John-Paul Wilkins, explores gardens as a habitat for a number of different animals.
Earthworms, bees, bats, spiders, and foxes all can be seen in backyards. Find out what these animals are doing and how they might relate to one another. Did you know that long-tailed chickadees build their nests from silk from spiders in a similar way that hummingbirds do?
On page 17, the reader finds out that squirrels feed on seeds. The squirrel we saw was harvesting the seeds from the wheat plants.
Age Range: 4 – 7 years
Publisher: Heinemann (July 1, 2014)
ISBN-10: 1484605764
ISBN-13: 978-1484605769
The second new book, Chipmunks (Backyard Animals)
by Mari Schuh, describes the habitat and life cycles of these frisky rodents.
How do we know the animal at the botanical garden was an antelope squirrel and not a chipmunk? According to the book, a chipmunk has black stripes. Although it is hard to tell from the photograph, the antelope squirrel has only light-colored stripes. It lacks dark ones.
Chipmunks is filled with big, full-color stock photographs of adorable chipmunks. It also includes a hands-on activity with suggestions for watching chipmunks. The activity could be modified to use with tree squirrels or ground squirrels, as well.
Age Range: 4 – 8 years
Publisher: Capstone Press (February 1, 2015)
ISBN-10: 1491420855
ISBN-13: 978-1491420850
Pick up these, and related nonfiction titles, to find out more about the animals you see in yards and gardens.
Related:
If you can't get outside to view garden wildlife, check out these lively videos from the BBC
Disclosure: These books were provided by the publisher for review purposes. Also, I am an affiliate with Amazon so I can provide you with cover images and links to more information about books and products. As you probably are aware, if you click through the highlighted title link and purchase a product, I will receive a very small commission, at no extra cost to you. Any proceeds help defray the costs of hosting and maintaining this website.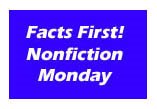 Looking for more children's nonfiction books? Try the Nonfiction Monday blog.