This week we have another new picture book for National Poetry Month, Feel the Beat: Dance Poems that Zing from Salsa to Swing by Marilyn Singer and illustrated by Kristi Valiant.
You can tell from the title right off the bat this is going to be a fun and upbeat book.Who doesn't like to dance? But Feel the Beat is also full of surprises.
First of all, we expect poems to have a distinct rhythm. Prolific author Marilyn Singer takes things a "step" further and incorporates the unique rhythm of each dance she is highlighting into the poem about it. Wow!
For example, for the salsa:
"Our teacher says, "First…
Feel the beat
in your feet
in your heart
Then you start.
Even better, the copy I found at the library has a CD in the back with the poems read by Singer set to appropriate music for each dance. What a treasure!
The illustrations are fabulous. They are so energetic that they bounce off the page. Each captures the flavor of the dance it portrays without being too busy or visually overwhelming.
Do you want to use the book to teach about different cultures? There are historical and cultural notes about each dance in the back matter.
You'll want to pick up Feel The Beat for Poetry Month and then enjoy it throughout the year.
Related Activity:
Listen to the CD. Have children choose a dance style and write their own poem to the beat.
Age Range: 5 – 8 years
Publisher: Dial Books; Rei/Com edition (March 7, 2017)
ISBN-10: 0803740212
ISBN-13: 978-0803740211
Disclosure: This book was supplied by my local library. Also, I am an affiliate with Amazon so I can provide you with cover images and links to more information about books and products. As you probably are aware, if you click through the highlighted title link and purchase a product, I will receive a very small commission, at no extra cost to you. Any proceeds help defray the costs of hosting and maintaining this website.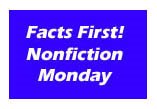 Looking for more children's nonfiction books? Try the Nonfiction Monday blog.