Even if you are buried under snow this week, spring is going to be right around the corner. There's no better way to get a touch of spring fever than by reading the books in this awesome new series, Springtime Weather Wonders by Picture Window Books.
Our first title, Raindrops Fall All Around (Springtime Weather Wonders)
by Charles Ghigna and illustrated by Laura Watson celebrates the rain by exploring what it does and where it goes.
The first thing the reader sees upon opening this book are the brightly-colored raindrop splattered end papers. Too fun!
The delightful rhyming text, with the playful the acrylic and digital collage illustrations, are sure to put a smile on the reader's face. He or she will be looking forward to seeing the hillsides turn green, to splashing in the puddles, and to watching the water go down the drains during the next spring rain.
At the end is a two-page spread of rain facts, including an explanation of the water cycle and an introduction to studying wind with an anemometer.
A Windy Day in Spring (Springtime Weather Wonders)
by Charles Ghigna and illustrated by Laura Watson explores
springtime breezes.
As you can see from the cover, this book shows adorable animals romping in the wind. Once again, the rhyming text by award-winning poet Charles Ghigna, keeps the reader bouncing right along.
Other titles in the series include Hail to Spring! and Sunshine Brightens Springtime. The books are available as hardcover or as board books for the PreK-2 set.
Be sure to share these lively spring weather picture books with young readers, and catch some spring fever yourself!
Disclosure: One of these books was provided by the publisher for review purposes. I am an affiliate with Amazon so I can provide you with cover images and links to more information about books and products. As you probably are aware, if you click through the highlighted title link and purchase a product, I will receive a very small commission, at no extra cost to you. Any proceeds help defray the costs of hosting and maintaining this website.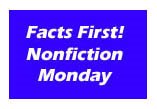 Looking for more children's nonfiction books? Try the Nonfiction Monday blog.