Let's explore some of the fantastic nonfiction children's books that have been nominated for 2018 Cybils awards.
For Nonfiction Monday, we'll start with the picture book biography Counting on Katherine: How Katherine Johnson Saved Apollo 13 by Helaine Becker and illustrated by Dow Phumiruk.
Katherine Johnson was a gifted mathematician who was denied a high school education where she lived because of her skin color. Her father decided to move the family to another town where there was a school she could attend. Through persistence and hard work Katherine ended up working for NASA, where she performed the many complicated calculations needed for successful space flight.
This is the kind of biography that makes you want to stand up and cheer at the end. Helaine Becker does a wonderful job of summarizing Katherine Johnson's life, distilling it to the essentials needed for a picture book. It's delightful how she plays with Katherine's love of counting by repetition of the phrase "count on me" through the text.
Dow Phumiruk's digitally-created illustrations are both warm and finely detailed. You can see some of her illustrations in this official trailer for the book:
The illustrations capture the tone of the book beautifully.
Counting On Katherine ticks all the boxes for a picture book biography because it reveals the life of an amazing woman set to the backdrop of her time in history. It is a moving story that will encourage young readers to dream big and follow their passions, no matter what the obstacles. Check out a copy today!
Age Range: 5 – 9 years
Publisher: Henry Holt and Co. (BYR) (June 19, 2018)
ISBN-10: 9781250137524
ISBN-13: 978-1250137524
Want to read more biographies? Try our list of children's books about women scientists at Science Books for Kids.
Disclosure: The book was provided by my local library. Also, I am an affiliate with Amazon so I can provide you with cover images and links to more information about books and products. As you probably are aware, if you click through the highlighted title link and purchase a product, I will receive a very small commission, at no extra cost to you. Any proceeds help defray the costs of hosting and maintaining this website.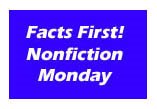 Looking for more children's nonfiction books? Try the Nonfiction Monday blog.