Have you ever come across an outstanding picture book that just screams, "Award winner"? Mesmerized: How Ben Franklin Solved a Mystery that Baffled All of France
by Mara Rocklif and illustrated by Iacopo Bruno is one of those books.
Mesmerized has everything going for it:  history, a mystery, science, art, language, and the remarkable Benjamin Franklin. It has complexity like the layered torte that is described in the book. Let's look at each in turn.
History:  The book is set in the time of the American Revolution. Ben Franklin has gone to France to ask King Louis XVI and Marie Antoinette for support for the war.
A mystery:  While in France, King Louis XVI asks Franklin to look into the mystifying Dr. Mesmer who supposedly can wave a wand and cure people using "animal magnetism." Can it be true?
Science:  Ben Franklin (with a team of renowned scientists) use the scientific method to test the claims.
Art:  Iacopo Bruno's illustrations perfectly capture the Rococo art that was popular in Paris, France at the time. The illustrations are also clever, with just the right amount of light humor.
Language: Besides learning the vocabulary of the scientific methods (observation, hypothesis, test, support, placebo effect), readers also learn the roots of the word mesmerized. Even better, common French words are also sprinkled about.
Ben Franklin:  The man had a simple appearance compared to the fancy French and Dr. Mesmer, but he also had many layers. He was a successful diplomat, prolific inventor and keen scientist, among other things.
The bottom line is that Mesmerized is an outstanding children's book and every elementary educator is going to want to have a copy.
Further Resources:
Age Range: 6 – 9 years
Grade Level: 1 – 4
Hardcover: 48 pages
Publisher: Candlewick (March 10, 2015)
ISBN-10: 0763663514
ISBN-13: 978-0763663513
Disclosure: The book was from the library. Also, I am an affiliate with Amazon so I can provide you with cover images and links to more information about books and products. As you probably are aware, if you click through the highlighted title link and purchase a product, I will receive a very small commission, at no extra cost to you. Any proceeds help defray the costs of hosting and maintaining this website.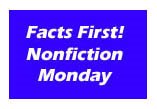 Looking for more children's nonfiction books? Try the Nonfiction Monday blog.