Okay, I keep saying I'm going to quit reviewing while I write my own children's books. Whenever I say it, of course I find something like the terrific new picture book biography Imagine That!: How Dr. Seuss Wrote The Cat in the Hat by Judy Sierra and illustrated by Kevin Hawkes and I just can't stop myself from raving about it.
Writing a picture book biography of famous and highly prolific author Dr. Seuss is a hugely daunting task. Author Judy Sierra could have had problems if she had tried to cover his entire life. Instead she wisely narrows her topic to a limited window of time. She gives the essence of his life in a small capsule. It's brilliant.
To set the stage, the author describes what kids might have been doing in 1954. Then, using just the right rhythmic tone, she reveals how it came about that Dr. Seuss began writing The Cat in the Hat that year. Next comes the central message:  given the struggles Dr. Seuss had writing the book using a limited vocabulary list, he could have easily given up. Instead he persevered, dug deep into his creative toolbox, and ultimately was successful. It is an important message delivered with a light touch.
The text isn't the whole package, either. Kevin Hawkes's illustrations are delightful as well, paying playful homage to Dr. Seuss's style.
The bottom line is Imagine That!: How Dr. Seuss Wrote The Cat in the Hat is simply a picture perfect picture book biography. Check out a copy today.
Related Activity:
Have this book on hand for NEA's Read Across America Day which is held every year on Theodore Seuss Geisel's birthday. This year it will be Friday, March 2, 2018.
Of course, the biography should be accompanied by reading The Cat in the Hat.
The Cat in the Hat by Dr. Seuss
Age Range: 3 – 7 years
Publisher: Random House Books for Young Readers (September 12, 2017)
ISBN-10: 0553510975
ISBN-13: 978-0553510973
Disclosure: This book was from our local library. I am an affiliate with Amazon so I can provide you with cover images and links to more information about books and products. As you probably are aware, if you click through the highlighted title link and purchase a product, I will receive a very small commission, at no extra cost to you. Any proceeds help defray the costs of hosting and maintaining this website.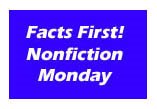 Looking for more children's nonfiction books? Try the Nonfiction Monday blog.