Sometimes children wonder if they are ever going to use the skills and concepts they are learning in school. Launch a Rocket into Space (You Do the Math)
by Hilary Koll and Steve Mills goes a long way to help answer that lingering question by showing children important real-world applications for math.
"Hi, my name is Michael and I'm an astronaut."
So starts a journey into space that uses math at every step of the way. Michael helps the reader compete the math exercises while guiding a younger female trainee. Together they learn about everything from fractions to timelines. The first activity involves evaluating data about astronaut candidates to select those that fit the height, age and eyesight criteria. A few problems will require a protractor to measure angles.
Although the illustrations are often set up in panels with conversation bubbles like cartoons, the graphic-style illustrations are bold and serious, not lighthearted. They are likely to appeal to visual-learners and reluctant readers, as well as fans of serious nonfiction.
Want to take a look for yourself? Check this preview at Google Books.
Launch a Rocket into Space is perfect for homeschoolers and after school math clubs because they can be entirely child-directed reading with answers to check in the back.
Other books in the You Do The Math series follow a similar format, but feature other fields such as police work in Solve a Crime and being a pilot in Fly a Jet Fighter. Although recommended for ages 6-8, these books could also be useful for older children who are struggling with math concepts or don't quite see how the math they are learning might be useful. They would also be useful for children researching certain careers by giving them more realistic expectations of what might be required to perform certain jobs.
After all, it is only rocket science!
Age Range: 6 – 8 years
Grade Level: 1 – 3
Publisher: QEB Publishing (June 1, 2015)
ISBN-10: 160992729X
ISBN-13: 978-1609927295
Disclosure: This book was provided by the publisher for review purposes. Also, I am an affiliate with Amazon so I can provide you with cover images and links to more information about books and products. As you probably are aware, if you click through the highlighted title link and purchase a product, I will receive a very small commission, at no extra cost to you. Any proceeds help defray the costs of hosting and maintaining this website.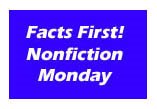 Looking for more children's nonfiction books? Try the Nonfiction Monday blog.