Today's the launch day for the new nonfiction picture book Mapping My Day by Julie Dillemuth and illustrated by Laura Wood.
Mapping My Day introduces basic map concepts and vocabulary by following main character Flora through her day. She wakes up to a lesson about cardinal directions, races to the bathroom while learning about map scale, and goes outside to use a treasure map full of landmarks. And that's all before breakfast.
The back matter includes a "Note to Parents and Caregivers" which encourages children to participate and reinforce learning with suggestions for hands-on mapping activities.
You might wonder if, with the advent of the Global Positioning System (GPS), mapping might be becoming obsolete. Nothing could be further from the case. Maps are ways to present information visually, not only for geography, but also for many other fields including STEM. Plus, spatial skills learned from developing an understanding of maps are important for many careers.
All in all, Mapping My Day is a tool every educator of young children should have in their toolbox.
Related:
Download the activity pages from the back matter for free at the Magination Press website (which is the publishing arm of the American Psychological Association)
See a list of children's books for preschoolers that cover spatial concepts.
For older children, tomorrow (3/14) is Pi Day. Check out the Pi Day information and activities at Growing with Science blog and the list of Pi Day books at Science Books for Kids.
Age Range: 4 – 8 years
Grade Level: Preschool – 3
Hardcover: 40 pages
Publisher: Magination Press; 1 edition (March 13, 2017)
ISBN-10: 1433823330
ISBN-13: 978-1433823336
Disclosure: This book was supplied by the publisher for review purposes. Also, I am an affiliate with Amazon so I can provide you with cover images and links to more information about books and products. As you probably are aware, if you click through the highlighted title link and purchase a product, I will receive a very small commission, at no extra cost to you. Any proceeds help defray the costs of hosting and maintaining this website.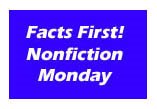 Looking for more children's nonfiction books? Try the Nonfiction Monday blog.