Spring is just around the corner and what better way to get into a festive mood than with a great book to inspire art projects?
Modern Art Adventures: 36 Creative, Hands-On Projects Inspired by Artists from Monet to Banksy
by Maja Pitamic and Jill Laidlaw is like a hands-on children's art museum. It features art history, examples of artwork of famous artists to study, and 36 fresh and imaginative  hands-on projects to take learning to another level.
The book is divided into seven chapters , each of which cover a modern movement or category of art:
Impressionism
Expressionism
Portraits
Abstract Art
Graphic Art
Pop Art
Street Art
Within each chapter are introductions to specific pieces of work of two or three artists that embody that category. (In the back matter are short biographies of each artist for those who want to delve deeper. ) Following are two hands-on projects inspired by each artwork that teach children about an array of different media and techniques. Because there are two projects, the reader has a choice of doing one or both of the activities depending on constraints of time, supplies and/or interest.
Each project is shown a two-page spread. An example of the finished project is shown on one page, with step-by-step instructions (including photographs of the project in progress) and a materials list on the other.
As a former Art Masterpiece volunteer, I love this book. Maja Pitamic and Jill Laidlaw are experienced art teachers and writers. Their real life experience is evident throughout the book. These are projects that could be easily carried out at home, in the classroom, or in an after school program setting. They require art supplies, but most of them are easy enough to find. Even the larger grocery stores are carrying and array of art supplies for kids these days. The only thing I would say even remotely questionable is the choice of calling attention to graffiti-artist Banksy in a children's book, but the art piece they choose to emphasize is fresh and highly appropriate.
The bottom line is every child deserves to be exposed to art and Modern Art Adventures is a wonderful way to accomplish that. Pick up a copy and help youngsters start producing their own masterpieces today!
Related activity inspired by the book:
Shamrock Art Activity for St. Patrick's Day
Gather:
Photographs, illustrations or living "shamrock" leaves (ours is pink woodsorrel, Oxalis debilis)
Pencil
Oil pastels in shades of green
Art paper
Blending tool or vinyl eraser (optional)
If you use living plant material, you may want to flatten it in an old book for 30 minutes to an hour to make it easier to trace. If you are using illustrations or photographs, cut out the shamrock shape.
1. Arrange the shamrocks in a pleasing design on the paper.
2. Trace around the leaves or cutout shamrocks lightly with a pencil.
3. Remove the leaves or cutout shamrocks.
4. Cover the pencil outline with a thick line of oil pastel in shades of green.
5. Using a finger, blending tool or vinyl eraser, pull the color into the center of the leaf evenly. This will give a smooth, shaded appearance. Wash your fingers before changing colors.
Extension:  More advanced artists may want to fill the shamrocks with oil pastels and blend in layers of colors. This instructional video from Jerry's Artarama will give some details how to do this.
Age Range: 6 and up
Publisher: Chicago Review Press (April 1, 2015)
ISBN-10: 1613731779
ISBN-13: 978-1613731772
Disclosure: The book was provided by the publisher for review purposes. Also, I am an affiliate with Amazon so I can provide you with cover images and links to more information about books and products. As you probably are aware, if you click through the highlighted title link and purchase a product, I will receive a very small commission, at no extra cost to you. Any proceeds help defray the costs of hosting and maintaining this website.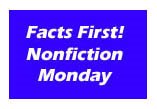 Looking for more children's nonfiction books? Try the Nonfiction Monday blog.