This weekend I caught a few episodes of the old TV series Numb3rs, one of which reminded me of last year's fabulous math book for kids Mysterious Patterns: Finding Fractals in Nature
by Sarah C. Campbell and photographs by Richard P. Campbell.
This gorgeous book walks the interface between picture book and middle-grade title.  It starts simply, with common shapes found in the environment, giving the impression of a picture book for youngest set. Step-by-step the shapes become more complex until we are seeing the repeating patterns called fractals, which are exciting concepts geared for older students. Then readers are taken through examples of fractals in nature that range in scale from Queen Anne's lace flowers to mountain ranges. Amazing!
The large format enhances the ability of the reader to see details in the wonderful color photographs. Some of the plant examples have been photographed on white or black backgrounds to further enhance the clarity.
In the back is an activity to make a type of fractal called a Sierpinski triangle, which is perfect to reinforce learning. The afterword by Michael Frame summarizes the life of Benoit Mandelbrot, who named fractals, as well as proposing some practical and potential uses for fractals.
Mysterious Patterns: Finding Fractals in Nature is a great introduction to complex patterns and is sure to inspire students, particularly reluctant ones, to investigate math in greater depth.
Age Range: 7 – 10 years
Publisher: Boyds Mills Press; SEW edition (April 1, 2014)
ISBN-10: 1620916274
ISBN-13: 978-1620916278
Related:
Looking for more math books for kids? Try our list of math books for pi day and every day at Science Books for Kids.
_______________________
Disclosure: This book was provided by my local library. Also, I am an affiliate with Amazon so I can provide you with cover images and links to more information about books and products. As you probably are aware, if you click through the highlighted title link and purchase a product, I will receive a very small commission, at no extra cost to you. Any proceeds help defray the costs of hosting and maintaining this website.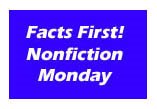 Looking for more children's nonfiction books? Try the Nonfiction Monday blog.