Hungry? If not, you will be if you read the new children's picture book Pancakes to Parathas: Breakfast Around the World by Alice B. McGinty and illustrated by Tomoko Suzuki.
What better way to learn about new places than to explore their regional cuisine? McGinty takes the reader to breakfast from Australia to Nigeria in a series of two-page spreads. As she says,
It's breakfast time around the world
in countries near and far.
Wake up world! It's time to eat,
no matter where you are!
Each has dual level text, with short, bouncy rhymes for the youngest reader and a denser, detailed paragraph or two for the older reader. Suzuki's bright illustrations bring the places and food to life.
Pancakes to Parathas will take young readers on a delicious trip around the world. Consume a copy today!
Suggested activities:
Pair a children's book from countries around the world with a breakfast treat from the region. Find books, such as this list suggested by the Cooperative Children's Book Council. You can also find many regional recipes online.
I chose Jamaican Cornmeal Porridge because it reminded me of a similar dish from my own childhood and because it can be made dairy free.
Jamaican Cornmeal Porridge
Ingredients:
1 cup yellow cornmeal, medium or fine grind
2 cups plus 1 cup water (divided use)
1 cup coconut milk, the beverage type (see photograph)
1/4 teaspoon cinnamon
vanilla, salt, or sweetener to taste
In a small bowl, whisk the cornmeal and 1 cup of cold water together until completely mixed. (This prevents lumps.) Measure the remaining two cups of water and 1 cup coconut milk into a medium to large saucepan and bring to boil. Quickly whisk cold water/cornmeal into the boiling liquid and cook, stirring constantly, for 12-15 minutes. Note:  boiling cornmeal erupts like mini-volcanoes so turn down the heat quickly and keep on a low boil throughout.
Once cooked, cool slightly and serve with fresh fruit, sweetener, and/or some cold milk. I used a small amount of brown sugar, dried blueberries, and a small amount of rice milk. Yum!
See the publisher's website for:
Age Range: 4 – 8 years
Publisher: little bee books (February 5, 2019)
ISBN-10: 1499807120
ISBN-13: 978-1499807127
Disclosure: I am an affiliate with Amazon so I can provide you with cover images and links to more information about books and products. As you probably are aware, if you click through the highlighted title link and purchase a product, I will receive a very small commission, at no extra cost to you. Any proceeds help defray the costs of hosting and maintaining this website.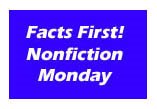 Looking for more children's nonfiction books? Try the Nonfiction Monday blog.