Do you want to celebrate children's art and nurture creativity? Get off to a great start with two new consumable activity books.
The Big Book of Color: An adventurous journey into the magical & marvelous world of color! (Big Book Series)
by Stephanie Meissner, with artwork and illustrations by Diana Fisher, Lisa Martin, and Damien Barlow introduces children to color wheels, complimentary colors, analogous colors, and color values through activities and tear out pages.
With dimensions of 8.8 x 0.5 x 11.8 inches, this really is a big book. Every page is covered with big, bold bright illustrations that really "draw" children in.
After explaining and exploring the color concepts in the first 31 pages, the rest of the book consists of fun tributes to different colors. For example, the first color showcased is red. After explaining that red is a primary color, what its complement is, and that it is a warm color (all concepts defined in the first part of the book), readers are taken on a whirlwind tour of things that are red. Each page features a mix of stock photographs and illustrations, plus sidebars with color factoids (like red means stop and bees don't see red), each section finishes with step-by-step instructions to draw and color a specific animal.  The red animal is a hermit crab in a shell. In addition to the six colors of the traditional color wheel, the featured colors include pink, brown, gray, white and black.
So, who is the target audience of this book? Preschoolers generally are the ones learning their colors and thus would appreciate the featured color sections, but  the consumable art pages, and draw and color activities require fine motor control skills of 7 or 8 year-old children. The good news is that, rather than being a drawback, the ambiguous age range of the book is an asset because it means that it would work well for families and mixed age groups. It also likely that a single child might return to it over the years and find out more and more as his or her grasp of concepts and skills develop. The front section might even be helpful for adults to brush up on color concepts before working with children.
The bottom line:  The Big Book of Color has a little something for everyone.
Age Range: 5 and up
Paperback: 128 pages
Publisher: Walter Foster Jr; Act Clr Cs edition (January 6, 2015)
ISBN-10: 1600584357
ISBN-13: 978-1600584350
The Big Book of Art: Draw! Paint! Create!: An adventurous journey into the wild & wonderful world of art! (Big Book Series)
This companion book is a guide for using different art media such as crayons, colored pencils, markers, and paint.
Age Range: 5 and up
Paperback: 128 pages
Publisher: Walter Foster Jr (January 6, 2015)
ISBN-10: 1600584349
ISBN-13: 978-1600584343
Related:
1. Tissue Paper Color Bleed Activity

Gather:
Colored bleeding art tissue paper
Water
Large sheet heavy-duty white paper, such as watercolor paper or even card stock
Spray bottle
Newspapers or plastic sheets to protect work surface
Color bleeding art tissue is easy to use and gives beautiful results. For a basic project, simply lay strips and pieces of the tissue in a layer onto the white paper. Spray water onto the tissue until damp enough for the colors to bleed. Allow the artwork to dry over night and then remove the tissue. The colors will create unique mixes where they overlap.
Extend the project by sorting the tissue into warm colors versus cool colors, or explore complimentary and analogous colors.
Artospectives has more complete instructions, more ideas to expand the project, and lovely photographs of finished projects.
2. Pinterest Boards
Have you ever used Pinterest? It is a great way to organize links to projects you'd like to do, particularly art projects. Take a look at my board Art Projects for Kids to get ideas.  Let me know if you have any links to suggest, as well.
Disclosure: The Big Book of Color was provided by the publisher for review purposes. Also, I am an affiliate with Amazon so I can provide you with cover images and links to more information about books and products. As you probably are aware, if you click through the highlighted title link and purchase a product, I will receive a very small commission, at no extra cost to you. Any proceeds help defray the costs of hosting and maintaining this website.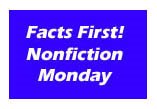 Looking for more children's nonfiction books? Try the Nonfiction Monday blog.