Let's explore some of the fantastic nonfiction children's books that have been nominated for 2018 Cybils awards.
I've been meaning to review the middle grade biography The Girl Who Drew Butterflies: How Maria Merian's Art Changed Science by Joyce Sidman for a few months now. Why haven't I? Perhaps I've wanted to keep this gorgeous book all to myself.
Maria Sibylla Merian was a woman far ahead of her time. She was an artist, a scientist, and a bold adventurer who traveled to Surinam during the 1600s all wrapped up in one. So right off the bat, this is the biography of an interesting person.
When I say this book is gorgeous, I'm not kidding. Starting with the gold lettering and border on the cover, to the menagerie of Merian's butterfly and caterpillar illustrations in the endpapers, to Joyce Sidman's own color photographs of insect life stages, The Girl Who Drew is a visual feast.
Even the chapter titles are creative. Each is a stage during insect metamorphosis that parallels Maria's own development:  Egg, Hatching, First Instar, etc. It also reflects her intense interest in how animals develop from stage to stage. How clever is that?
Don't underestimate the historical information, either. Readers learn about what life was like during the 1600s. Throw in old maps and oodles of back matter and you have a book that has lasting power.
The Girl Who Drew Butterflies is a treat for budding artists and scientists alike. Be inspired by a copy today.
Public domain artwork by Maria Sibylla Merian
Age Range: 10 – 12 years
Publisher: HMH Books for Young Readers (February 20, 2018)
ISBN-10: 0544717139
ISBN-13: 978-0544717138
Disclosure: The book was provided by the publisher for review purposes. Also, I am an affiliate with Amazon so I can provide you with cover images and links to more information about books and products. As you probably are aware, if you click through the highlighted title link and purchase a product, I will receive a very small commission, at no extra cost to you. Any proceeds help defray the costs of hosting and maintaining this website.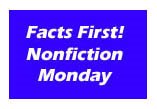 Looking for more children's nonfiction books? Try the Nonfiction Monday blog.