Let's explore some of the fantastic nonfiction children's books that have been nominated for 2018 Cybils awards.
We are featuring a perfect book to read this week, We Are Grateful: Otsaliheliga by Traci Sorell and illustrated by Frané Lessac.
Members of the Cherokee Nation say the word otsaliheliga to express gratitude. They use it as a reminder not just for one celebration or day, but throughout the year. Starting in autumn and moving through winter, spring and summer, Traci Sorell describes the weather/environment for each season, reveals celebrations that occur during that time of year, and describes special activities and foods that bind families together.
The back matter is a must read. It gives a deeper explanation of some of the terms used, explains the author's source materials –and how other books have got things wrong — and tells the story of a man named Sequoyah developed the Cherokee written language in the early 1800s.
Frané Lessac's gouache illustrations contain small details that are likely to lead to further discussion and investigation.
We Are Grateful: Otsaliheliga is a wonderful book that is hard to describe. It has things to offer that readers might not even know they want or need. Pick up a copy and you will be glad you did.
The book trailer helps with pronunciations.
Activity Suggestions:
Visit Traci Sorrell's website (at bottom of book page) or Charlesbridge (downloadables tab) for a teacher's guide and coloring sheets to accompany the book.
Age Range: 3 – 7 years
Publisher: Charlesbridge (September 4, 2018)
ISBN-10: 158089772X
ISBN-13: 978-1580897723
Disclosure: The book was provided by our local library. Also, I am an affiliate with Amazon so I can provide you with cover images and links to more information about books and products. As you probably are aware, if you click through the highlighted title link and purchase a product, I will receive a very small commission, at no extra cost to you. Any proceeds help defray the costs of hosting and maintaining this website.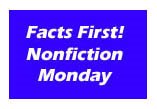 Looking for more children's nonfiction books? Try the Nonfiction Monday blog.