Children's book author Sneed Collard III has been making a name for himself in the field of nonfiction, winning the Washington Post– Children's Book Guild Award in 2006. With his newest title, Fire Birds
, he tackles the tough topic of forest fires and asks if it possible that some forest fires can actually have benefits.

Forest fires have been a "heated" topic in the West. Many acres have been burned in the last few years in Arizona alone and lives have been lost trying to battle the blazes. What to do to manage forests and forest fires has become highly controversial.
The book starts out with the work of biology professor Dick Hutto, who has been investigating what happens to bird species after a forest fire. He found that some species nest almost exclusively in burned forests, including the black-backed woodpecker. He has come up with a list of 15 species that are not destroyed by fires, but instead are closely associated with, and benefiting from, recently burned forests. These are the birds of the title, the "Fire Birds."  Each fire bird is featured throughout the book with large color photographs and detail-filled sidebars.
Collard then goes on to discuss salvage logging after forest fires and points out the complexities of managing fires due to a mix of private and public concerns. Although fires are natural occurrences and forest communities may depend on fires to be healthy, fire suppression and changes in habitats and climate have given delicately-balanced ecosystems a wallop. The author suggests it might be time for a more nuanced and informed approach to forest fire management.
Fire Birds
will be of interest to children who want to learn more about birds, ecology, and also those studying forest fires. It is full of questions that are sure to encourage children to delve deeper into the topic.
Ages:  8+
Hardcover: 48 pages
Publisher: Bucking Horse Books (December 10, 2014)
ISBN-10: 0984446079
ISBN-13: 978-0984446070
Product Dimensions: 11.1 x 8.6 x 0.5 inches
Sneed B. Collard III is also the author of an older fictional novel that covers similar topics:
Age Range: 11 and up
Grade Level: 6 and up
Paperback: 256 pages
Publisher: Peachtree Publishers; Reprint edition (April 1, 2011)
ISBN-10: 1561455776
ISBN-13: 978-1561455775
Disclosure: Book provided by the publisher for review purposes. I am an affiliate with Amazon so I can provide you with cover images and links to more information about books and products. As you probably are aware, if you click through the highlighted title link and purchase a product, I will receive a very small commission, at not extra cost to you. Any proceeds help defray the costs of hosting and maintaining this website.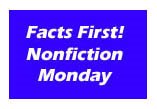 Looking for more children's nonfiction books? Try the Nonfiction Monday blog.